Comedy Hypnotist
My name is Greg Steele. I am a comedy hypnotist. I am also a professional entertainer. My comedy hypnosis show is a unique college activity. This comedy hypnosis show provides a fun, interactive activity. It provides more laughs than a stand up comic. It's also great for corporate entertainment.
You will hear laughter and applause. Your guests participate in my stage hypnosis show. It is memorable entertainment. My comedy hypnosis show is a fun interactive program. This type of corporate entertainment is a good alternative to a traditional comedian or motivational speaker. This comedy hypnosis show provides nice reviews from your staff, employees and guests.
I have performed my comedy hypnosis show all across the country. I do shows for a number of corporations and institutions. Everyone enjoys an interactive program with universal appeal. It's the best hypnosis show available with G and PG ratings.
Business, Corporate Comedy Hypnotist
Finding a corporate entertainer that is safe, fun, and appropriate entertainment for your guests isn't easy. I can help provide the right entertainment. Create memories of your corporate event. I provide peace of mind to corporate event planners and their clients. They appreciate knowing their guests are participating in an corporate friendly and clean after dinner program.
Comedy hypnotism shows are great for corporate entertainment and business events. I have been a corporate entertainer for over 20 years. My comedy hypnosis show is perfect for association and conventions. It is also a popular program for employee banquets and award dinners. I can do corporate parties, holiday year end parties. My show is good for business meetings, training seminars and more. Make your event a huge success!
College, University Comedy Hypnotist
Comedy hypnotism shows are great for campus entertainment. I am a professional entertainer for universities and college activities. My show is great for campus entertainment for fraternities and sororities.
Student life and campus activities are great settings for my shows. In fact, my favorite show is for colleges and students. This show is guaranteed clean and non-offensive.
Your students are the real stars of the show! Comedy hypnotism is an interactive show. This program is so funny that I can grab their attention and keep them entertained at any campus event. I can perform a comedy hypnosis show custom to your college crowd.
School and After Prom Comedy Hypnotist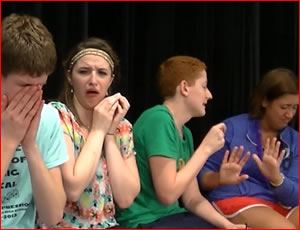 Comedy hypnotism shows are a perfect for high school students. I perform at school assemblies and after school events. My busy season is after proms and grad nights. Students become the stars of the show. School staff and parents feel at ease knowing that the students are participating in student friendly program. I can help to create memories that last a lifetime. It is a great reward for students at a welcome back orientation; or for any school celebration.
I treats my audience with respect. My show is corporate and student friendly. Never worry about embarrassing or offensive material. My stage hypnotist program is safe, appropriate family entertainment. My goal is to insure you receive 100% positive feedback from my show.